FINNLO Bio Force ULTIMATE PLUS Multigym, German Brand
3 Year Warranty
The Outstanding FINNLO Bio Force Ultimate Plus Multi Gym is a Revolutionary Award Winning Design
Used & Recommended by Pro Athletes. As Supplied to the EUROPEAN ASTRONAUT CENTRE
Includes a Bio Force Extreme & Bio Force Power Bench to allow for professional bench pressing, incline bench presiing, and many more additional exercises.
(Scroll down to see product features)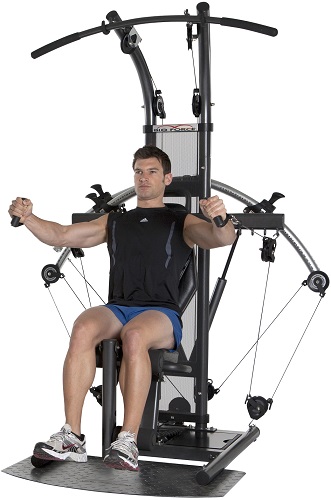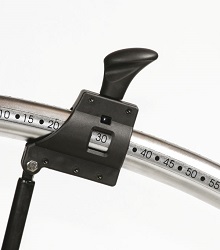 (Exercises shown using Bio Force Multigym)
Features:
Exercises:
Butterfly

Benchpress

Latissimus Sitting

Rowing

Leg Flexion Standing

Leg Flexion Sitting

Leg Press
Features Continued:

120 Kg resistance model with bilateral weight adjustment (upto 60 Kg per side)

High quality ergonomically designed back rest cushion

Full length mesh backplate

Zip up ring binder containing:
-Training Program DVD from Elite Athlete Eric Lichter
-Detailed User Manuals with Charts and Pictures


-Different Exercise Programs for Men and Women
Cable Pull Positions for Legs, Shoulders and Overhead

Integral Transportation Rollers - A Clear Advantage over other Multi-Gyms

GS, TUV & CE Certified to German production standards (considerably superior quality certification than CE alone)

Max. user weight 135 Kg (21 Stone)
Power Bench Features:
Suitable for Bench-Press, Incline Bench-Press, 'Flys', Rowing, Shoulder Press, Lat Pulls, etc.

Adjustable Backrest - 5 positions

Automatic seat and backrest position adjustment

0 - 80 degrees seat angle range

Quick & easy mounting to BIO FORCE multi-gym with click-system

BIO FORCE comfort backrest

Quality steel frame with max user weight of 135 Kg (21 Stone)
Weights and Measures:
Gym Weight: 76 Kg

Gym Built up size: (L) 134 x (W) 165 x (H) 208 cm

Gym Space Required: (L) 165 x (W) 165 x (H) 208 cm

Power Bench Weight : 22 Kg

Power Bench Built up size (L) 114/120 x (W) 49 x (H) 106 cm
Made from thick gauge steel and precisely engineered to deliver durability and smooth operation for years to come
DELIVERED AS A 'FLAT PACK'. Requiring some final assembly. Full instructions are included.
For delivery to other UK Islands, please contacts us for details.
RRP: £1599.99
From £1,249.00